Written by: Lauren | May 4, 2015
Wow, okay, so it has literally been like 23 eons since I have written a post for you lovely readers. And for that I have no excuse.
Instead, I have an attempt at a wonderfully, plug-like post about one of the great opportunities of being at Ohio State: community service.
Buck-I-SERV is a campus organization that promotes civic engagement and community service by allowing students to attend week-long service trips, for a discounted price, and all over the country AND the world, during one of the university breaks!
Now, as someone who has been on multiple Buck-I-SERV trips, I might be a little biased, but Buck-I-SERV is one of my absolute favorite things about Ohio State. To me, there is something incredibly surreal and beautiful about a group of young strangers using their own funds to gather together, go on a trip during their break, and serve others. Read the rest of this entry »
Topics: Activism, Advice, Author, Relaxation, Stress Relief, Student Life, Student orgs, Travel, Why Ohio State? | No Comments »
Written by: Ben | May 4, 2015

Hello! Long time, no see. It seems like years since I last decided to update my Buckeyes Blog. It is truly a testament to just how busy I have been this past month. RA Class, work, projects, exams, the climate crisis (this really hasn't had an effect on my writing ability, but this is a serious issue about the world that we need to face).
But on to more important things, LIKE MY BIRTHDAY! Yes, my birthday was this past Tuesday, on the greatest day of all: Reading Day.
I've never truly enjoyed my birthday in the years past. It was always a disappointment or a letdown. But this is Ohio State, where we don't have any letdowns!
Read the rest of this entry »
Topics: Author | No Comments »
Written by: Katharine | April 29, 2015
A few days ago I was filling out an information form and encountered an unexpected problem. First, name; second, phone number. Easy so far. Next, address. I instinctively started to write my current dorm address, but then took a second glance. Where exactly do I live?
Topics: Home, Housing, Student Life | No Comments »
Written by: Cassie | April 29, 2015
Ahh Reading Day, also known as the calm before the storm. It's one day where students have a buffer zone between classes and finals. There's so much to do in such a short amount of time, so here's how I spent it.
Topics: Academics, Classes, finals | No Comments »
Written by: Cassie | April 28, 2015
As the semester winds down, I think it's safe to say that many students, regardless of year in school, are feeling a variety of emotions about the end of this year. Whether it be organizations having their final meeting, or taking that dreaded final, here's some realizations Buckeyes will have in the coming week and a half, as depicted by Disney's Snow White & The Seven Emotions of Finals Week Dwarfs. Read the rest of this entry »
Topics: Author, finals | No Comments »
Written by: Eliana | April 27, 2015
I really, really like bags. I can resist the pull of cute shoes and hats, but the minute I see a cute bag in a store, I have to remind myself that I have a whole shelf of cute bags at home already and I don't need to buy another.
So when I was packing for college over the summer, it was really hard to decide which bags to bring with me, and I ended up bringing way more than I actually needed.
This post is for anyone who might be having the same problems I had: here are the bags that I used the most during my first year of college.
Topics: Advice | 1 Comment »
Written by: Lindsay | April 23, 2015
No, this post is not about weight or food, it's about a much better "Freshmen 15."
Usually the phrase "Freshmen 15" refers to the 15 pounds that some freshmen gain while adjusting to the convenient campus food. As for me, I will probably be leaving college the same weight that I was coming in but I will be leaving with 15 of something else. After my freshmen year is over, I will have 15 experiences that I didn't have coming into it college. You can call it makeshift freshmen year bucket list of sorts, some of the things on this list are things that I wanted to do coming into college, some of them are completely unexpected experiences.
So with that, here is my Freshmen 15:
Topics: Author | No Comments »
Written by: Karen | April 20, 2015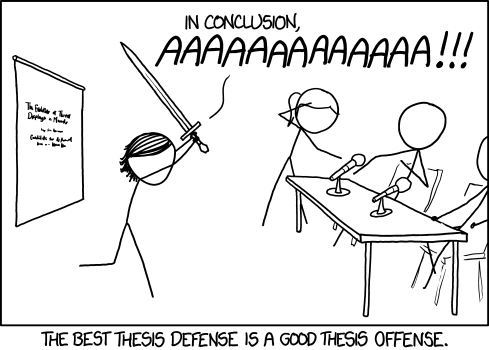 Last Friday I was awake earlier than I have been all semester, but I wasn't tired. The adrenaline wouldn't let me sleep. The day had come: my thesis defense.
Topics: Academics, Research | No Comments »
Written by: Ben | April 17, 2015
If you're a fan of The Office, you will certainly remember the infamous episode: Goodbye Toby. In said episode, Michael Scott finally says goodbye to his unrequited rival and human resource head Toby Flenderson. To express just how happy he is over Toby's departure, Michael throws a gigantic festival in the parking lot, filled with fireworks, music, food, and much more.
In the same manner, last night I said goodbye to Ohio State's greatest institution: North Commons. In the love-hate relationship I share with all buffet locations, it was a bittersweet moment in my collegiate experience. What better way to say goodbye to my diet killer than with Late Night Breakfast? Here's my tale.
Topics: Academics, Advice, Campus Life, Events, fitness, Food, Home, Housing, nutrition, Personal, Personal Events, Recreation, Relaxation, School Spirit, Stress Relief, Student Life, Student orgs, The Future, Travel, Uncategorized, Why Ohio State? | Comments Off
Written by: Cassie | April 17, 2015
Yes. Balloons, Birthdays, and Breakfast all within the span of a few hours.
Drackett Tower celebrated it's 50th birthday, and in honor of this event, Residence Life hosted a birthday party, which included balloon animals, food, and inflatables (which, due to weather, will come on a later date).
Topics: Events, Food, Student Life | Comments Off
Written by: Cassie | April 16, 2015
I, like many other individuals, learn best with visuals: that's just how I function.
So I knew coming to college, I needed something that would show me everything I had to get done, while motivating me to continue on when I felt like going back to bed.
As a result, my mother and I found a dry-erase board with wall-friendly adhesives so that I could set it up above my desk as a reminder of what tasks are waiting in the wing, and the due dates for each assignment.
Topics: Author, Classes, Studying | 1 Comment »
Written by: Katie D. | April 14, 2015
It finally happened! I got to go to Donuts with the Dean!!!
This is SO up my alley. I like free things. I really like donuts. And a chance to shake the dean's hand? Well that would be swell too! Naturally I've been waiting all semester to finally experience Donuts with the Dean.
Topics: Author, Campus Life, Events, Food, School Spirit, Student Life | Comments Off
Written by: Eliana | April 13, 2015
Since I've gotten back from spring break, I've been helping plan a program that OSU Hillel (the Jewish student center) has every year: the Rainbow Seder.
A traditional Passover Seder is when Jews gather to tell the story of the exodus from Egypt, and OSU Hillel had hosted two traditional Seders earlier that week. However, the Rainbow Seder was special because it had an LGBTQ (lesbian, gay, bisexual, transgender, queer/questioning) focus: that is, instead of talking about coming out of Egypt, we talked about coming out of the closet.
Topics: Events, Student orgs | Comments Off
Written by: Cassie | April 13, 2015
The city of Columbus, for a few select nights of the year, hosts "Moonlight Market," a place where local vendors, artists, and businesses set up shop all along Gay Street and allow citizens to explore what they have to offer.
Topics: Author, Recreation, Student Life | Comments Off
Written by: Katie D. | April 11, 2015
As the spring semester draws to a close, I've been reflecting on my brief but exciting time here at Ohio State and I've realized that I feel like it's been a whole lot longer than 8 months.
Here are some of the best things I've discovered about The Ohio State University so far.
Topics: Academics, Advice, Author, Classes, Personal, Student Life, Why Ohio State? | Comments Off
« Previous Entries