« It's a Fast-Paced World | Home | Thanksgiving week happenings »
By Cameron | November 25, 2011
What is it? What does it mean? Why is it so bad and looked down upon in modern society?
Because I'm the definition of it.
I know you're saying to yourself, "woah, who is this Cameron guy? A new blogger?" Ha ha, you're so hilarious. Just because I haven't posted in the last century doesnt mean anything. I have lots of drafts that I could have posted… I just didn't…. Procrastination maybe/is the downfall of any college/high school/grad student and adult or child doing anything ever in the world at any time. An over sweeping generalization you may say? That doesn't make it any more less true. Well I mean to catch up everybody on my entire life at OSU would be a little over dramatic and uncalled for so I'll recall memories as they come back to me, but the main topic is procrastination. And my advice is; don't do it. Just avoid it at all cost, but it will always creep into our lives, "oh I'll check my emails later, oh I'll text that person later, oh I'll finish this 15 page research paper later, oh I'll study for my midterm tomorrow evening, the hour before the test." And for pretty much anybody, they'll say
I'll never do that, I'll plan out the appropriate amount of work to allot to each day of the week and tackle each task with the smae motivation and rigor that I do everyday at my intellectual instiution of higher education.
or
I'll finish things later because I'll be older by then, and I'll be wiser too!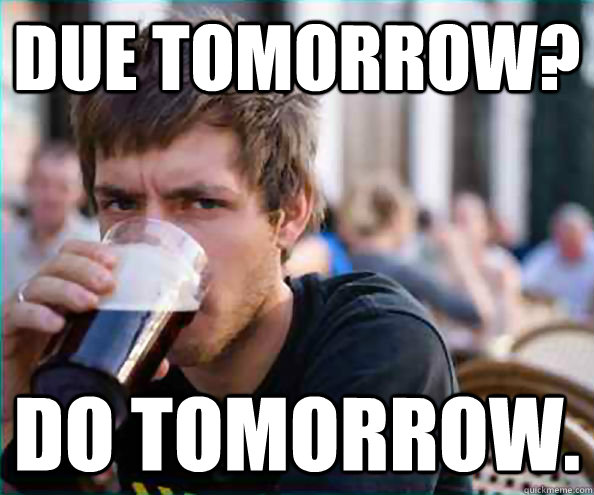 And my only advice is to just set out some time to actually schedule when you're going to do things, whether it be a sticky note to yourself,or a journal entry, or a note on your phone. And set out a time every 2 days or so, where you'll actually finish the little things, reply to emails, plot out papers, and plan how much to study for midterms or do homework.
This alone would have saved me sleepless nights and constants fits of anxiety if I would just start things at a reasonable time. But then again, the topic of me being more productive under pressure is a totally different story….
Topics: Academics, Advice, Author, Cameron, Schedules, Stress, Studying | Comments Off
Comments are closed.